Event Overview
---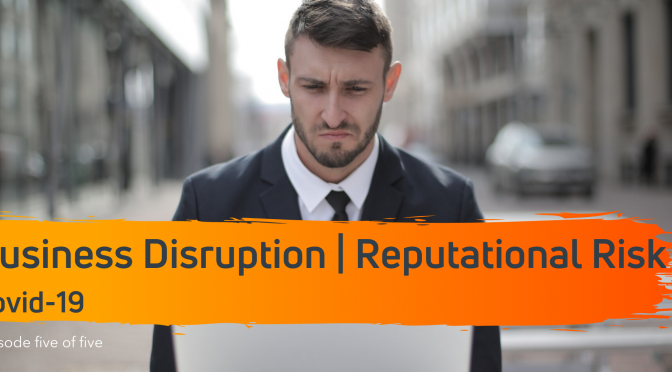 This is the final webcast of our 5-part series providing practical support and information for businesses facing issues arising from the COVID-19 pandemic and other disruptive events.
BUSINESS DISRUPTION – REPUTATIONAL RISK
This 40-minute risk management webcast, facilitated by our CEO Steve Wait, will feature Peter Chapman, Managing Director of Enigma in Newcastle. This episode will cover threats or dangers to a brands good name or standing of a business or entity during a disruption.
Peter is a senior marketing communications specialist with over 15 years experience in building brands and growing businesses. Specific experience working in Consumer Goods, Utility, Property, Automotive, Aged Care, Government, Construction Materials and Retail industries.

More Episodes in this series of live webcasts:
Epsiode 1 People Risk  11am, Thursday 19 March 2020
Episode 2 Financial Risk 11am, Tuesday 24th March 2020
Episode 3 Operational Risk 11am, Thursday 16th March 2020
Episode 4 Market Risk 11am, Tuesday 31st March 2020
This event and Business Advisory services under the Business Connect program are funded and supported by the NSW Government through the NSW Department of Treasury. Business Connect is a dedicated and personalised NSW Govt program that provides trusted advice to help you start or grow your business.