Event Overview
---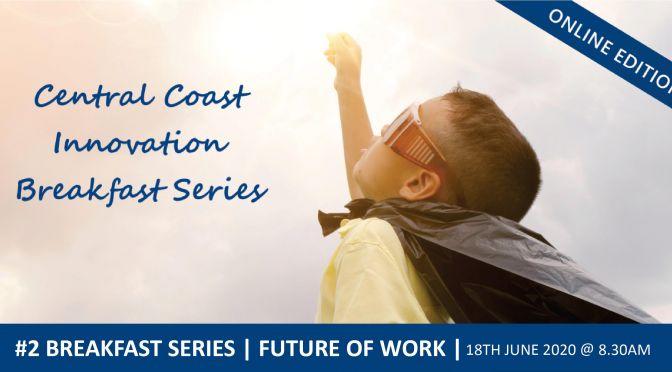 Join us for the second Innovation Breakfast, all about the 'Future of Work'. These events run on the third Thursday of every month.
FUTURE OF WORK
As we move through the economic challenges from the impact of COVID-19 restrictions, it's important for us to reconnect and focus on how we can use innovation to get us through this difficult time and be stronger into the future.
Join us for our second innovation breakfast where we invite guest speakers, Christina Gerakiteys (SingularityU) and Jessica Mizrahi (Deloitte) to talk through what the future of work might look like and how we can harness this information to propel the region forward.
If you're a business owner or operator on the Coast or a community member who is interested, curious or passionate about innovation, join us for June's Innovation Online Breakfast Series event.
Event highlights
• Insights from futurists and experts in the innovation space
• A space to share your experiences, challenges and ideas and learn from an engaged community
• Make a cuppa and join us for a fun, interactive and inspiring morning
Event details
• Date – Thursday 18 June 2020
• Time – 8.30am to 10am
• Zoom link (to participate in event) – https://us02web.zoom.us/webinar/register/WN_-Yw64mniSHeTMtRo-lYKXg
• RSVP – Register via the eventbrite by 17 June 2020
Gain insights from experts in the innovation space, , join the discussion, ask questions, and share your experiences, challenges and ideas.
Make some toast, bring your coffee and join us via Zoom on Tuesday 18 June, 8.30am to 10am for a morning of innovation and collaboration.
Our Speakers
Jessica Mizrahi, Associate Director, Deloitte Access Economics & Author of 'Future of Work' Deloitte report
Jessica helps to shape the national conversation on the issues that matter. She is an accomplished leader, researcher, strategist and public speaker.
An economist by training, Jessica helps her clients by providing strategic advice and thought leadership to inform solutions to practical business and regulatory problems. She focuses on the future of work, the digital economy and small business.
Jessica is a key author of Deloitte's The path to prosperity: why the future of work is human. She is also the Vice President of the Economics Society NSW. She was previously a finalist for Deloitte's Young Businesswoman of the Year program.
With ten years' experience, Jessica's previous roles include telecommunications regulation at the ACCC, and teaching economics to over 300 students at the University of New South Wales. She graduated as a Bachelor of Commerce and a Bachelor of Economics with First Class Honours from the University of New South Wales.
Christina Gerakiteys, CO-CEO of SingularityU
Christina Gerakiteys is Co-CEO of SingularityU Australia and is a catalyst for change. She has a talent for alchemizing the impossible into the possible. Christina knows human potential is unlimited.
Christina's mission is to inspire and empower leaders to find solutions to humanity's grandest challenges. Her work is focused at the intersection of the Values of Humanity with the Value of Technology.
Christina is a fully accredited Singularity University Faculty Expert. She is the host of the SingularityU Australia Summit podcast, Inspire for 5 and is a regular host on the SingularityU Australia webinar series A Future By Design. She regularly contributes media articles and appears on radio and podcasts.
Her engaging style, depth of knowledge and authentic desire to impact the planet for good, have made Christina an in-demand, international, key-note speaker. Christina is a sought after corporate and university program designer and facilitator - her curriculums driven by design thinking, engagement, purpose and play. She lectures in Business, Innovation and Entrepreneurship where she advocates Moonshot Thinking – disrupting current mindsets to encourage exploration into what is possible.