Event Overview
---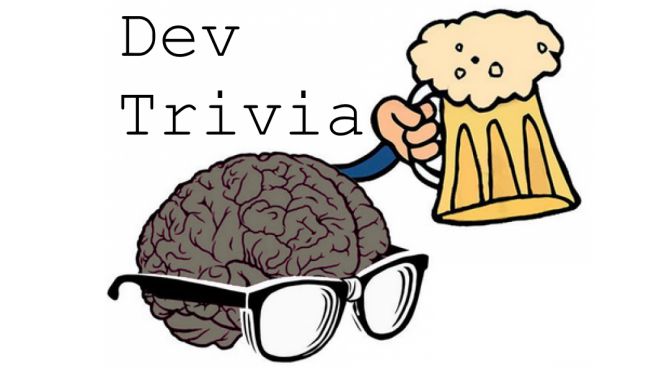 Developer trivia is back again in December 2019.
We're really excited to bring you some of the weird and wonderful edge cases of developer knowlege. This will be a really fun night, with food, drinks and prizes.  We will have some canapé style food provided and a bar tab with the option for you to purchase main meals if you'd like.
It's really important that you RSVP so that we can provide enough for everyone.

FAQ
Can I bring a team along? Yes, we encourage people to form a team. It's more fun together. Just remember to RSVP so we can plan things out.

I don't have a team is that OK? Yes, we'll find you a team on the night. If you really want to you can compete solo as well.
I'm a manager / BA / QA / front end / back end / junior developer should I come along? YES! there will be questions for everyone who is interested in the dev space you will be a valuable part of a team.

Where can I park? There is some on street parking available and parking between the Honeysuckle light rail stop and Hunter street.
I have to arrive late / leave early, is that ok? Yes, we will run 4 independant rounds. You're welcome to come for all 4 or just one.
I want to sponsor. Contact Klee on twitter @kleeut
I have more questions.  Contact Klee on twitter @kleeut
Sponsors
We cant do this without the help of our sponsors:

Saphi
ASR Recruitment
Newwie Ventures
Banlaw
STEM Industry School Partnerships (SISP)
more to come.
STEM Industry School Partnerships (SISP)