Event Overview
---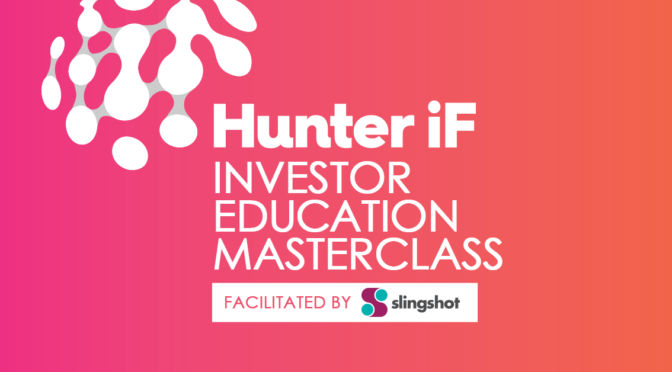 Hunter Innovation connector Hunter iF has teamed up with Slingshot, one of the most active and successful early-stage investors in Australia, to provide a free series of seminars on how to invest in the next generation of Startup businesses.
Hunter iF has identified the need to educate investors interested in diversifying their traditional investment portfolios and becoming involved in supporting these new businesses of the future. Since 2013, Slingshot has run Accelerator programs throughout Australia and has been engaged to share their expertise and help the Investors and Startups of the Hunter Region.
The program is designed for both new investors who are interested in exploring Startup investment, as well as more experienced investors and advisors. The Slingshot team will guide investors through the full investment lifecycle, starting with how and where to find good investment opportunities, achieving successful exits, examining the risks and avoiding traps.
The program content includes:
Defining the Startup and Investor Ecosystem

Angel Investing

Portfolio Theory and Diversification

The Investor's Role in Startups

Deal Flow and the Investment Process

Deal Screening and Due Diligence

How to Value a Startup

Key Documents

Tax Initiatives and Incentives

Investment Options: Equity vs. Notes

Q&A with a Local Startup Founder 
Investors can choose from two half-day workshops, hosted in Newcastle on 24 July.
Each free 4-hour workshop features an in-depth chat with local startup founders and experienced Angel investors.
Presented by our event partners PKF