Event Overview
---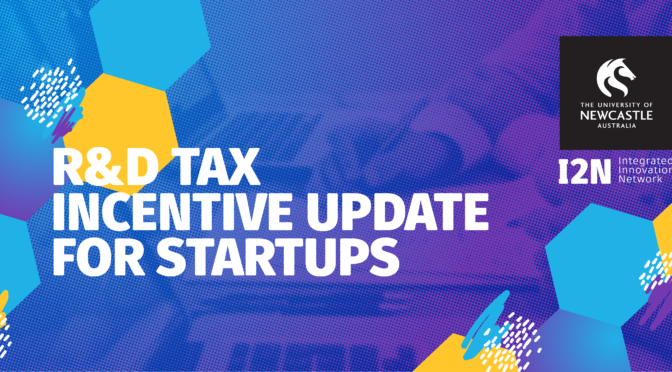 The R&D Tax Incentive is Australia's single biggest government program supporting startups, with over $2 billion going to companies with $20 million or less in annual turnover. But the recent ATO crackdown on the Incentive has left some startups questioning the administrative unknowns surrounding the scheme. There is a real risk that early-stage companies will choose not to claim. This is a problem and it does not have to be this way.
The R&D Tax Incentive Update for Startups will give attendees a clear language understanding of where they stand and how to move forward with certainty each year. Join us at I2N Hub Hunter Street for presentations from EY's Investment and Government Incentives team, followed by Q&A. 
This free event is tailored for any companies who have claimed the R&D Tax Incentive in the past or are planning to apply for the first time. Light catering provided. 
=================
The University of Newcastle's Integrated Innovation Network (I2N) fuels the success of innovators and entrepreneurs to build great businesses by connecting them with community, coaching, customers and capital. We do this through a range of programs across our I2N Hubs at Hunter Street, Williamtown, Muswellbrook and Honeysuckle (opening 2020).
Program Partner
UON is proud to be able to bring this program to you at a subsidised rate thanks to the NSW State Government's Boosting Business Innovation Program.
=================
You may be photographed or videoed while attending this event: please approach the organiser if you have questions, concerns, or do not wish this to happen.
The event organisers may add you to a mailing list so they can follow up, and you can receive updates about their activities: this mailing list will have an easy-to-find unsubscribe button.