Event Overview
---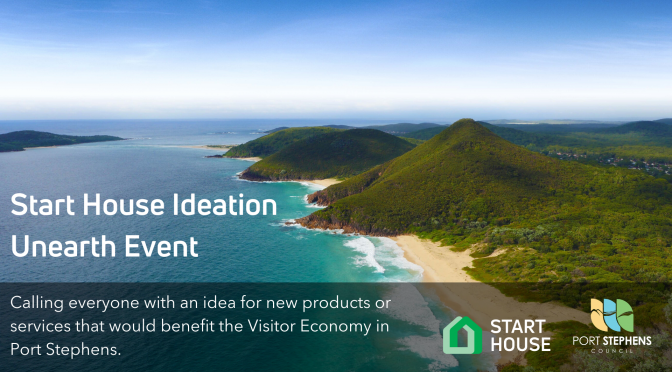 Calling all ideas people
The Business Centre and Port Stephens Council will partner to launch its own local innovation program – Start House Port Stephens - set to launch 10th March, 2020 from 5:00 pm at Evviva Cafe
Start House is a program open to anyone with a great idea which might add to or diversify Port Stephens' visitor experience. This free Discovery event is an opportunity to learn more about what the Start House program has to offer. It's also a chance to connect with a network of support to help you get that idea to the next stage. We also invite existing businesses and industry leaders to participate in this event to connect with and assist with getting these great ideas off the ground.      
Included in your ticket
Hear about the Start House program (Mentoring and Training)
Drink + Light refreshments
Meet like-minded people in the Port Stephens Innovation Ecosystem


Start House
Powered by The Business Centre, Start House unearths innovators from regional NSW and brings them to the world. Unlike a typical "Start-Up" program, we are not for profit and we don't take equity. Instead, we work with you at a realistic pace to see you achieve tangible opportunities.
Feel the support of an Advisor who will be there for the blood, sweat and tears on the way to bringing your ideas to market.
At The Business Centre, we understand business and we have been working with innovation before it became a buzzword. With 35 years of experience under our belt, we understand the realities of being in business and what success looks like. Hard work and accountability, is what will be required to take full benefit for this program. 
This program is brought to you by Port Stephens Council