Event Overview
---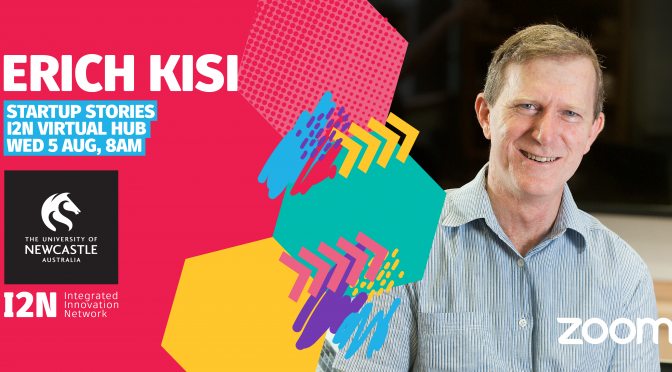 Hear the experiences of an entrepreneur and business owner – the highs, the lows, the wins, the mistakes, the whole enchilada.
Professor Erich Kisi has spent the past eight years developing and refining a method of blending metals into a modular form capable of storing energy when heated. The project's origins go back to an earlier research project which aimed to convert extremes of temperature directly into electricity. It was during that project that Erich and his team realised what they needed was energy storage, prompting a pivot to creating a solid material capable of storing heat at scale. It was during that pivot that MGA Thermal was born.
MGA Thermal in its most basic form resembles a brick made of two components, one which will melt and the other stays solid. When heat is applied, the fine grain components melt, storing energy, while the solid component holds everything together. Materials used to create the technology are common and abundant, resulting in a non-toxic solution that is 10 per cent the cost of lithium batteries yet produce the same amount of energy.
The team began their commercialisation journey in CSIRO's ON Prime and Accelerate programs where they received intensive coaching around networking, business planning and pitching. They have gone on to test and prove their technology, signing a partnership with Swiss based E2S Power Ag, enabling them to repurpose decommissioned coal power plants into fossil-fuel free energy storage plants.
More recently, the team has closed a seed investment round of $500k with CP Ventures, paving the way for grid-scale storage and boosting the capability of a renewable energy future globally. Join us for Startup Stories and learn how Erich and his team are helping drive renewable energy uptake with their breakthrough MGA technology.
Order of Proceedings
8:00AM - Zoom webinar commences and guests log in
8:05AM - Housekeeping and introduction
8:10AM - Overview from Erich Kisi
8:20AM - Participant submitted Q&A
8:50AM - Additional Q&A with live audience
9:00AM - Event concludes
=================
What is I2N?
The University of Newcastle's Integrated Innovation Network (I2N) fuels the success of innovators and entrepreneurs to build great businesses by connecting them with community, coaching, customers and capital. We do this through a range of programs across our I2N Hubs at Hunter Street, Williamtown, Muswellbrook and Honeysuckle (opening 2021).
Program Partner
UON is proud to be able to bring this event to you via the NSW State Government's Boosting Business Innovation Program.
=================
You may be photographed or videoed while attending this event: please approach the organiser if you have questions, concerns, or do not wish this to happen.
The event organisers may add you to a mailing list so they can follow up, and you can receive updates about their activities: this mailing list will have an easy-to-find unsubscribe button.