Event Overview
---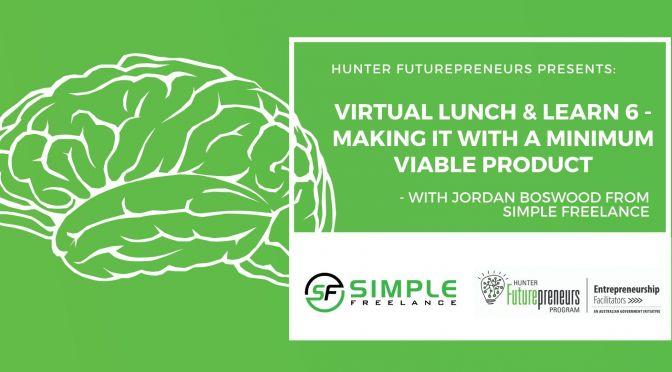 This session has been designed to assist individuals to increase their understanding about what a minimum viable product and its importance.
About the Session
The start-up journey can be a scary up-hill battle when you are dealing with a product and not sure if it is viable enough to take to the market.
Hunter Futurepreneurs has proudly partnered Jordan Boswood from Simple Freelance to bring you this virtual lunch & learn session that has been designed to assist individuals in the start-up/ small business sector to increase their understanding about what a minimum viable product is and the importance of an MVP.
If you have been asking yourself the following questions lately –
- What is a minimum viable product?
- Is it important?
- Why create a minimum viable product?
- How to set expectations for your MVP?
- How to find the right development team?
Communication Styles
Demonstrated Experience
Approach (Waterfall or Iterative)
Then this is the virtual session for you!
Have your lunch ready to go for this jam-packed virtual Lunch & Learn hour with Jordan Boswood from Simple Freelance.
About the Presenter
Presenter - Jordan Boswood, Owner of Simple Freelance
Jordan Boswood is a software developer and consultant working primarily within the start-up sector. His company Simple Freelance addresses an emerging need of technical assistance and guidance for start-up founders entering the technology sector.
Through iterative development practices and a continuous communication, Jordan has developed and guided startups throughout Australia to creating their first Minimum Viable Product. His upcoming talk will discuss the methods in which a start-up can set out on their MVP journey as well as helpful hints and advice of how to avoid common mistakes when starting out.
About Simple Freelance
Simple Freelance was created to address the need in Australia for simple & sustainable start-up software development. They pride themselves on an ethical and affordable approach to helping new founders build their product.
Simple Freelance's skills are aligned with our main goal to help take non-technical founders and guide them through the software development process in an easy to understand and low pressure environment.
It is our objective to help our clients establish a strong understanding of the technical sides of their business venture whilst still being the reliable source of knowledge once your product is complete.
Services offered by Simple Freelance include: Pixel-Perfect Designing, Clear & Concise Advice, Project Management, Software Support and On-going Support, Development & Testing, and Extensive Documenting so all information regarding your viable product is stored in the same place.
To find out more about Simple Freelance, visit their Website at: https://www.simplefreelance.dev/

About the Host
Cheryl Royle, Hunter Region Entrepreneurship Facilitator and Founder of Hunter Futurepreneurs Program
Your very own local Entrepreneurship Facilitator, Cheryl Royle, who is a Hunter based small business coach and consultant will be hosting the session. She has educated, supported and coached 1000's of business owners, freelancers, consultants, artists and entrepreneurs across Australia. Cheryl offers practical start-up and business growth advice and is committed to guiding and supporting entrepreneurs, startups and small business owners in creating the business of their dreams.
About Hunter Futurepreneurs Program
Business mentoring and advice for startups and existing businesses.
Hunter Futurepreneurs is an Australian Government initiative delivering mentoring and training programs to equip you with the skills and confidence to run your own business. Our Entrepreneurship Facilitator will provide practical assistance and support you through the business startup and growth process. This service is available to Hunter, Newcastle, Port Stephens and Lake Macquarie residents and business owners. Phone call and Skype services are available to those outside the above specified area.
Services are fully funded by the Australian Government through its Entrepreneurship Facilitators Program. For more information please contact: Cheryl Royle on 0407 991 277.
https://www.hunterfuturepreneurs.com.au/