Event Overview
---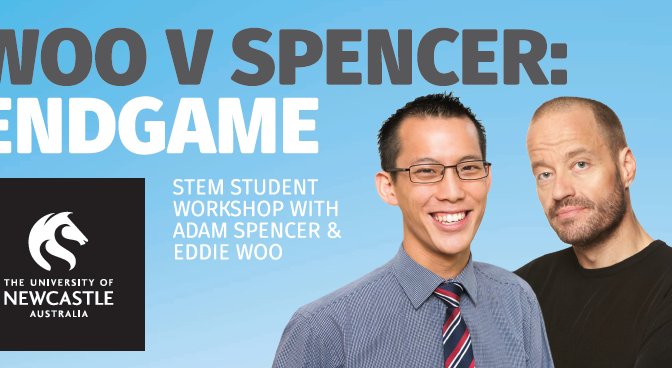 EVENT DETAILS -
Morning Event - Grades 5 - 6 / Afternoon Event - Grades 7 - 10
The University of Newcastle's Faculty of Science in conjunction with the Cessnock Academy of STEM Excellence (CASE) invites Grade 5 - 10 students, families and the community to attend a special STEM event at the University's Great Hall. 
Woo v Spencer: Endgame will bring together outstanding STEM experts from the University, Education and Industry, including of course the awesome Eddie Woo and Adam Spencer. Students will enjoy over 2 hours of fun with mathematics, problem solving, STEM careers information and much more.
Time has been set aside for students to meet Eddie and Adam and get a photo at the end of the event.
AGENDA:

During each session students will hear from a range of STEM education and industry experts including; 
• Eddie Woo - 2018 Australia's Local Hero, Mathematics Teacher, Leader Mathematics Growth program,University of Sydney's Science and Mathematics Ambassador
• Adam Spencer - University of Sydney's Science and Mathematics Ambassador, Australian comedian, media personality and one of the world's best mathematics communicators
• A/Prof Peter Howley- Science and Technology Australia STEM Ambassador, University of Newcastle STEM Ambassador
• Jessica Pritchard - Customer Service Manager, WesTrac
The event aims to inspire an appreciation and understanding of Mathematics, Statistics and STEM, and how these pursuits are more accessible and enjoyable than perhaps realised and important in society and the future workforce. The audience will be involved in informative presentations and workshops and will have the opportunity to speak with all presenters and get photos and autographs with the amazing Eddie Woo and Adam Spencer. 
TARGET AUDIENCE:
Grades 5 - 10 
EVENT PARTNERS