Event Overview
---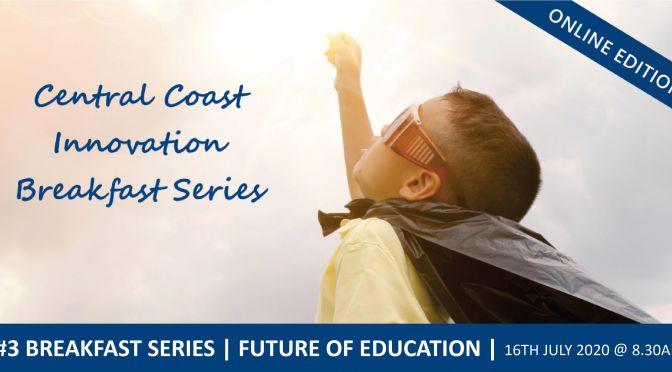 Join us for the third online Innovation Breakfast about the 'Future of Education'. These events run on the third Thursday of every month.
Central Coast Innovation Breakfast Series
⚡Future of Education⚡
As we move through the economic challenges from the impact of COVID-19 restrictions, it's important for us to stay connected and focus on how we can use innovation to get us through this difficult time and be stronger into the future. Central Coast Council, with support from the Fifth Element incubator accelerator, are proud to bring you the Innovation Breakfast Series.
Join us for our third innovation breakfast where we invite guest speakers:
Professor John Fischetti, Pro Vice Chancellor Education and Arts, University of Newcastle
Jade Moffat, Corporate Citizenship Manager, IBM Australia
Jillian Williams, Central Coast P-TECH Industry Liaison at IBM A/NZ
In New South Wales, and Australia more broadly, we are on the precipice of a massive transformation of schooling and the assumptions around the education of children. Join our guest speakers and panel as we talk through what the future of education might look like and how we can determine the knowledge, skills, attitudes and values students need to thrive in and shape their future.
If you're a business owner or operator on the Coast or a community member who is interested, curious or passionate about innovation, join us for July's Innovation Online Breakfast Series event. We especially would love to see teachers, educators, Principals, career advisors and school students attend this session.
Event highlights
Insights from leading thinkers in education nationally and locally
Hear from one of our local young people who will join us on the panel
A space to share your experiences, challenges and ideas and learn from an engaged community
Make a cuppa and join us for a fun, interactive and inspiring morning
Event details
• Date – Thursday 16 July 2020
• Time – 8.30am to 10am
• Zoom link (to participate in event) – https://us02web.zoom.us/webinar/register/WN_-Yw64mniSHeTMtRo-lYKXg
• RSVP – Register via the eventbrite by 15 July 2020
Gain insights from experts in the innovation space, , join the discussion, ask questions, and share your experiences, challenges and ideas.
Make some toast, bring your coffee and join us via Zoom on Thursday 16 July, 8.30am to 10am for a morning of innovation and collaboration.