Event Overview
---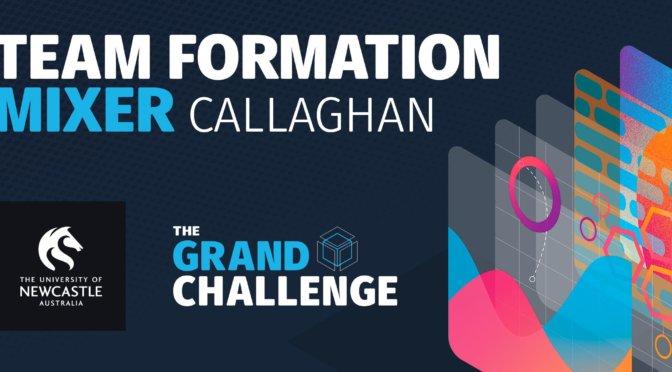 The University of Newcastle Grand Challenge will bring together multidisciplinary minds from across our community to explore solutions around one of the more perplexing problems of our time.
Participation in the Grand Challenge is open to everyone however you must be part of a diverse team of between 3-5 people with at least one team member being a University of Newcastle student, staff member or alumni.
Team Formation Mixer - Callaghan
If you have an idea for the Grand Challenge and are looking to recruit team members or would like to join a team the Team Formation Mixer is for you! 
Over lunch attendees with an idea for the Grand Challenge will be asked to share their potential solution and what kinds of skills or knowledge they are looking for in team members to help build their team. Attendees looking to join a team can 'shop around' before making a request to join up with the idea that aligns best to their capabilities. 
Individuals from any discipline, background and level of experience are encouraged to attend.
To find the venue for this event, go to the campus map.
A Team Formation Mixer will also be taking place at Central Coast campus on Wed 21 August. Click here for details.
What is the Grand Challenge?
A combined $50,000 in funding is available to teams who submit the most innovative proposals addressing the challenge of controlling mosquitoes. There are two problem statements to this Challenge. Proposals should include responses to one or both of the following questions:
How might we reduce the health risks that certain species of mosquitoes pose to humans?
How might we lessen the nuisance factor imposed by urban and invading mosquito populations?
All proposals are required to be socially and environmentally responsible and work towards the benefit of either local or global communities. 
The Grand Challenge is a great way to meet new people, be exposed to fresh ideas, learn new skills and build creative, original work while having real-world impact. Great ideas come from everywhere, so no matter your background or experience you've got everything to gain by participating.
For more details on the University of Newcastle's Grand Challenge go to www.newcastle.edu.au/grand-challenge
=================
The University of Newcastle's Integrated Innovation Network (I2N) fuels the success of innovators and entrepreneurs to build great businesses by connecting them with community, coaching, customers and capital. We do this through a range of programs across our I2N Hubs at Hunter Street, Williamtown, Muswellbrook and Honeysuckle (opening 2021).
=================
You may be photographed or videoed while attending this event: please approach the organiser if you have questions, concerns, or do not wish this to happen.
The event organisers may add you to a mailing list so they can follow up, and you can receive updates about their activities: this mailing list will have an easy-to-find unsubscribe button.