Event Overview
---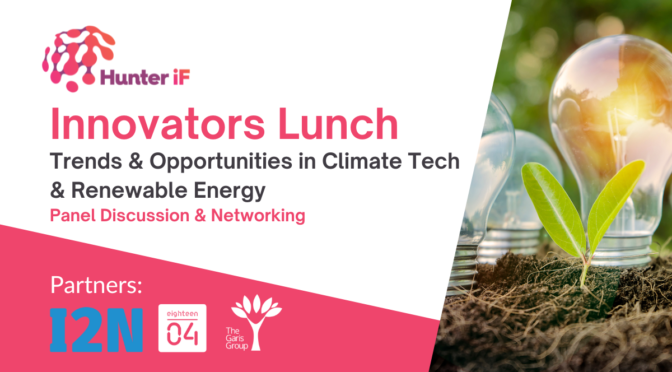 [vc_row][vc_column][vc_column_text]
Join us for a conversation on the current state of the climate tech and renewable energy industry sectors in Australia and New Zealand (ANZ), hosted by Hunter iF Limited, to stay ahead of the curve on the latest trends and opportunities in climate change to reach net-zero emissions before 2050.
We have brought together thought leaders and entrepreneurs to discuss the most important issues facing Australia's booming climate tech and renewable energy sectors.
What's in it for you?
Attending you'll get to meet your industry peers and local industry influencers. Learning from others, sparking new ideas, and uncovering new ways to achieve your professional and business goals.
Facilitator
Mick Liubinskas, CEO and Co-founder of Climate Salad
Panellists
Monica Tan, Head of Projects at Beyond Zero Emissions
Dr Andrew Mears, CEO at SwitchDin
Alexander Post, CTO at MGA Thermal
Caroline Mara, Managing Partner, Newcastle at PWC
Proudly hosted by Hunter iF Limited, 'Connecting Innovation to Opportunity'.
Thank you to our fabulous partners The Garis Group, I2N and Eighteen04 who have generously helped to put on this lunch.
[/vc_column_text][/vc_column][/vc_row]