Event Overview
---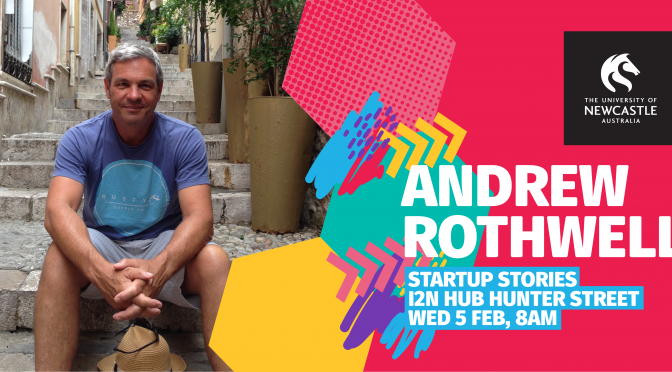 It was in Sydney's northern beaches that Andrew Rothwell realised his two passions: the great outdoors, along with maths and physics. This passion has served him throughout his career as a product builder, sales executive and people leader.
In 2003, Andrew co-founded Tyro Payments with fellow ex-CISCO employees after changes to Australia's banking licensing system encouraged the team disrupt the banking landscape. Tyro set out to be a bank that embraced tech company philosophies and methods. In their early years of life, Andrew was hiring software engineers, architecting data centres and writing "a ton of java to build the bank". Andrew was instrumental in growing the company during his 14 year tenure to 400 people and processing $11B in annual transaction volume, before exiting in 2017.
Tyro is now helping SMEs grow as a business-focused bank offering solutions in EFTPOS, bank accounts and business loans. Their very recent IPO on the Australian Stock Exchange saw them hit a market cap of $1.4 billion.
Andrew is passionate about early stage startups and has remained embedded in Australia's entrepreneurial ecosystem, with Tyro's Fintech Hub, as an INCUBATE Startup Program advisor and more recently a University of Newcastle VMS Mentor. Join us at Startup Stories to hear from one of Australia's original fintech pioneers and co-founder of the just-minted unicorn, Tyro. 
=================
What is I2N?
The University of Newcastle's Integrated Innovation Network (I2N) fuels the success of innovators and entrepreneurs to build great businesses by connecting them with community, coaching, customers and capital. We do this through a range of programs across our I2N Hubs at Hunter Street, Williamtown, Muswellbrook and Honeysuckle (opening 2021).
Program Partner
UON is proud to be able to bring this event to you via the NSW State Government's Boosting Business Innovation Program.
=================
You may be photographed or videoed while attending this event: please approach the organiser if you have questions, concerns, or do not wish this to happen.
The event organisers may add you to a mailing list so they can follow up, and you can receive updates about their activities: this mailing list will have an easy-to-find unsubscribe button.