Event Overview
---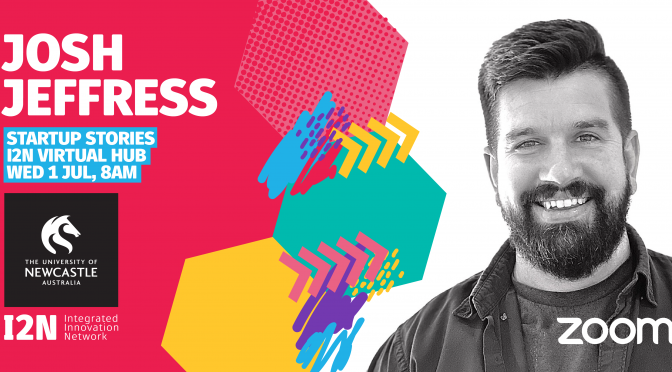 Hear the experiences of an entrepreneur and business owner – the highs, the lows, the wins, the mistakes, the whole enchilada.
Josh Jeffress has spent most of his professional life helping others execute their ideas. He started his career as a fitter machinist, honing his skills and building a foundational understanding of mechatronics, materials and production process. Eventually, design caught Josh' eye as a pathway to assisting people to bring their ideas to market. And so, in 2006 Josh founded Design Anthology as design agency capable of delivering products ranging in complexity and scale across a broad set of industries.
The Design Anthology team have carved out a unique space at the nexus of ideas and product development and have translated concepts into practical solutions for startups through to large corporates. They take a unique approach to each project by breaking innovation down into a predictable and explainable method for their clients to follow and iterate on.
Since its inception, Design Anthology has grown rapidly. The team has expanded to six and have delivered over 100 projects across aeronautics, medical devices, consumer electronics and more. They have enjoyed numerous accolades and wins for innovation and design, most recently picking up Hunter Manufacturing's Excellence in Innovation, and Lake Macquarie's Excellence in Small Business.
Josh regularly contributes to the local ecosystem as a part-time lecturer, speaker and is a valued mentor as part of the University of Newcastle's Venture Mentor Service. Join us for Startup Stories and hear how this local founder is helping businesses bring their ideas to market and deliver recognised value for the region.
Order of Proceedings
8:00AM - Zoom webinar commences and guests log in
8:05AM - Housekeeping and introduction
8:10AM - Overview from Josh Jeffress
8:20AM - Participant submitted Q&A
8:50AM - Additional Q&A with live audience
9:00AM - Event concludes
=================
What is I2N?
The University of Newcastle's Integrated Innovation Network (I2N) fuels the success of innovators and entrepreneurs to build great businesses by connecting them with community, coaching, customers and capital. We do this through a range of programs across our I2N Hubs at Hunter Street, Williamtown, Muswellbrook and Honeysuckle (opening 2021).
Program Partner
UON is proud to be able to bring this event to you via the NSW State Government's Boosting Business Innovation Program.
=================
You may be photographed or videoed while attending this event: please approach the organiser if you have questions, concerns, or do not wish this to happen.
The event organisers may add you to a mailing list so they can follow up, and you can receive updates about their activities: this mailing list will have an easy-to-find unsubscribe button.